Egg-stuffed tomatoes are a great way to get a lot of flavor in one dish. What could be better than a warm, soft tomato that's filled with creamy egg yolk? Nothing! That's why this is such a popular dish in Italy. It also makes for a perfect breakfast or brunch. For best results, use small tomatoes that are ripe but firm and not split open.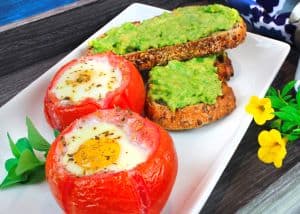 This is an easy recipe for stuffed tomatoes that works well for breakfast
This is an easy recipe for stuffed tomatoes that works well, especially for breakfast. It's great for people who like tomatoes, eggs, or both!
To make this dish, you'll need:
tomatoes 2
olive oil 3 tsp
eggs 2
salt and pepper pinch
green onion chopped
or, you can add spices like oregano and basil.
How to cook
● Start by cutting the tomatoes in half and scooping the pulp and seeds out. Spray
them with olive oil and season them.
● Break the eggs into a small ramekin, then slide as much as will fit into the tomato
halves. Serve with gluten-free toasted bread if you want or a small salad of your
choice.
● Bake in oven at 350 until eggs are set and tomatoes are tender (top with parmesan 24 gr 230 cal if you want).
● Garnish with green onion (oregano or basil) and serve.
The end result is a tasty breakfast treat that's full of vitamins C, A, and K as well as B6, folate, potassium, copper, iron, and manganese!
You can make these stuffed tomatoes in about 20 minutes!
These stuffed tomatoes are an easy side dish to make in about 20 minutes! They're great for breakfast or as a quick weeknight meal and can be made with any kind of tomato, any kind of meat, and any kind of vegetable.
I love stuffed tomatoes because they're so easy to make and you can get creative with the fillings. You can use whatever vegetables are in season, use up leftovers from last night's dinner, or even just go with the classic Italian meatballs. And the best part is that it only takes about 20 minutes from start to finish!
Conclusion
These egg-stuffed tomatoes are a great way to spruce up a boring meal and give it some flavor. The best part about this recipe is that it is so easy to make! You can have these stuffed tomatoes ready in no time at all. If you wanted, you could also add other ingredients like ham or cheese which would taste great too! I hope you enjoy making these stuffed tomatoes!
Notes: Please check if the recipe suits your needs before using it and adjust the amount of food according to your goals.