Breakfast is the most important meal of the day, so I always like to start my day off with a delicious breakfast. Today, I'm going to show you how to make a simple but tasty egg and English muffin breakfast sandwich using only a few ingredients. This recipe makes 2 sandwiches and takes less than 10 minutes from start to finish. Let's get started!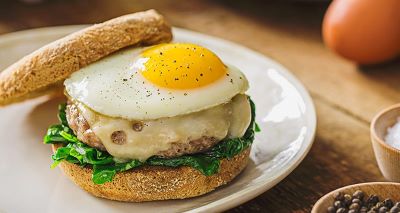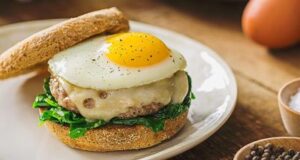 Ingredients
● egg 2 large
● English muffin 2
● olive oil 2 tbsp.
● salt and pepper to taste
To make this recipe:
In a pan, drizzle olive oil. Cook eggs until the whites are set and the yolk is still runny (about 4 minutes), or to desired consistency. Add salt and pepper to taste.
Toast English muffins in a toaster or oven under a broiler for 3-4 minutes, until warm and slightly brown in color. Remove from heat.
Slice English muffins in half. Top English muffin halves with 1 egg each and enjoy
Variations to add in egg & English muffin
Breakfast is even better if you use any type of deli meat you like: bacon, sausage, ham, smoked turkey, or chicken breast all work great! Try adding in a slice of cheese, or even a vegetable such as spinach, mushroom, or tomato.  If you want to make it more filling, you could choose different pieces of bread than an English muffin such as bagels or croissants.
This breakfast sandwich is very versatile.
This recipe makes a great breakfast sandwich for lunch or dinner as well – just reheat it in a pan on medium heat for two minutes on each side! The English muffin will be crispy again after just a few minutes, or try cooking over an open flame instead! This will make it taste even better than it already does by keeping all its juices inside.
Conclusion
Whether you love breakfast sandwiches or not, it's still a fun way to get the day started. If this is something that sounds interesting to you then I hope that my recipe was helpful! Just remember: no matter what kind of ingredients are in there, always make sure they taste good together before you start cooking anything else out of convenience.
Do you have any other variations that you enjoy? Let me know in the comments below!
Notes: Please check if the recipe suits your needs before using it and adjust the amount of food according to your goals.