Now, this easy creamy mushroom pasta dish is bursting with so many wonderful flavors. It comes together in just half an hour and is so easy to do. No complex techniques or special equipment.
A popular recipe that is loaded with goodies.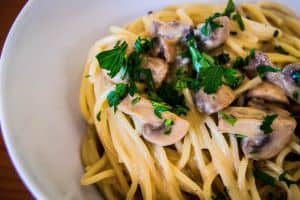 Ingredients for creamy mushroom pasta:
– 2 tbsp olive oil
– 1 tbsp butter
– 1 onion finely chopped
– 250 gr button chestnut mushroom
– 1 garlic clove, finely grated
– 100ml dry white wine
– 200ml double cream (or Greek yogurt if the goal is to lose weight)
– 1 lemon, zest only
– 200 gr parmesan (or vegetarian alternative) grated, plus extra to serve
– 300 gr tagliatelle or linguini (gluten-free if the goal is to lose weight)
– ½ small bunch parsley, finely chopped
How to cook this creamy mushroom pasta
1- Heat the oil and butter in a medium saucepan. Fry the onion over low heat for
10 mins or until softened and translucent.
2- Add the mushrooms and cook for 10 mins over medium heat. Add the garlic
and cook for 2 mins. Add the wine and bring to a simmer, reducing the liquid by
half.
3- Add the double cream and bring to a simmer, then add the lemon zest and
parmesan. Season with salt and plenty of black pepper.
4- Cook the pasta according to the directions on the package in the meanwhile. Reserve 100ml of the
pasta water. Toss the pasta in the pan with the creamy sauce and enough of
the reserved water to loosen. Stir through the parsley, divide into bowls and
top with extra cheese, if you like.
On the side dish
To balance the richness of the sauce, serve this creamy mushroom pasta with a light, crisp side salad. The ideal dish would be a fresh mix of crisp garden salad with fine Italian dressing.
Add garlic bread if you want to wow your family and guests. It goes fantastically with this pasta recipe.
Notes: Please check if the recipe suits your needs before using it and adjust the amount of food according to your goals.